This is a continuation of my journal as I travel the great state of Florida

Monday, August 31

Wow, I can't believe that I have been "Ramblin'" for an entire month already!

This morning I am leaving Key West and heading north. Not sure where I will stop but I plan to fish some more of the Keys before making my way to south west FL.

Here are some more pics from downtown. There are almost as many Chickens here as there are bums.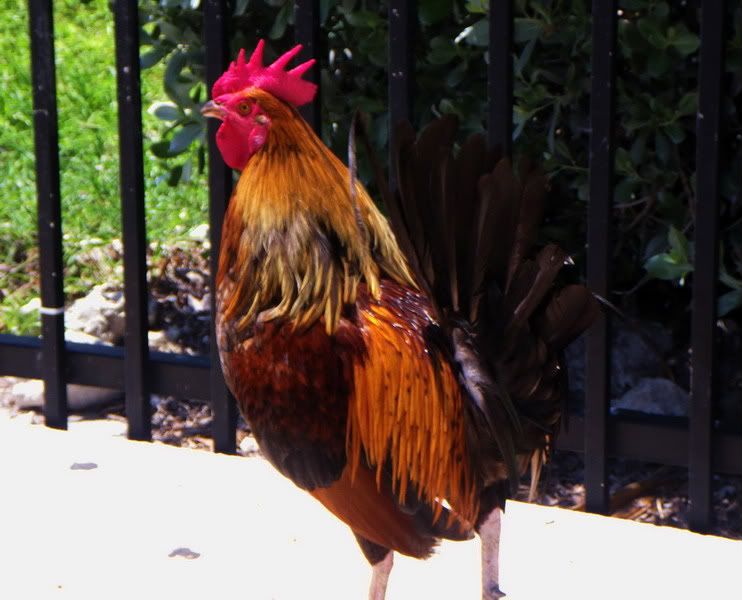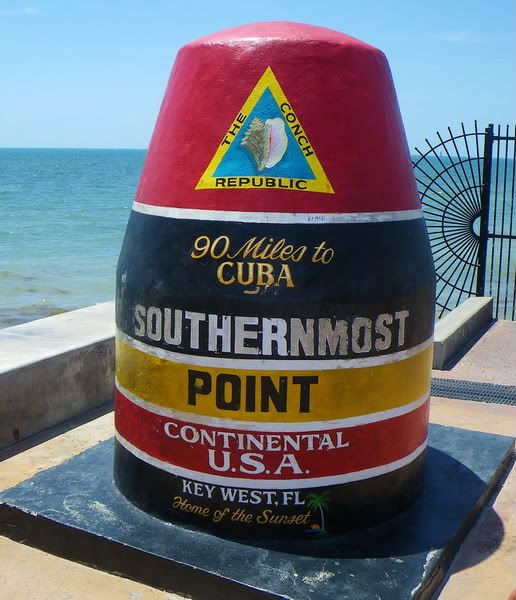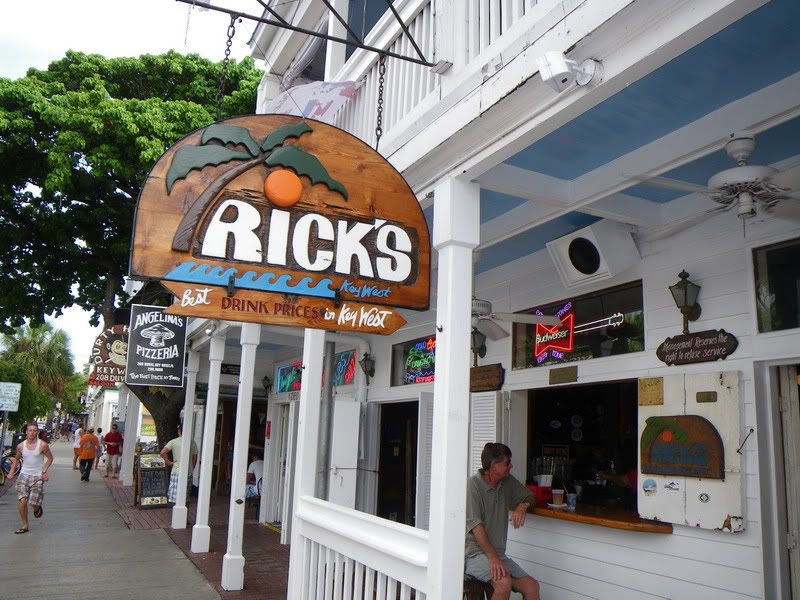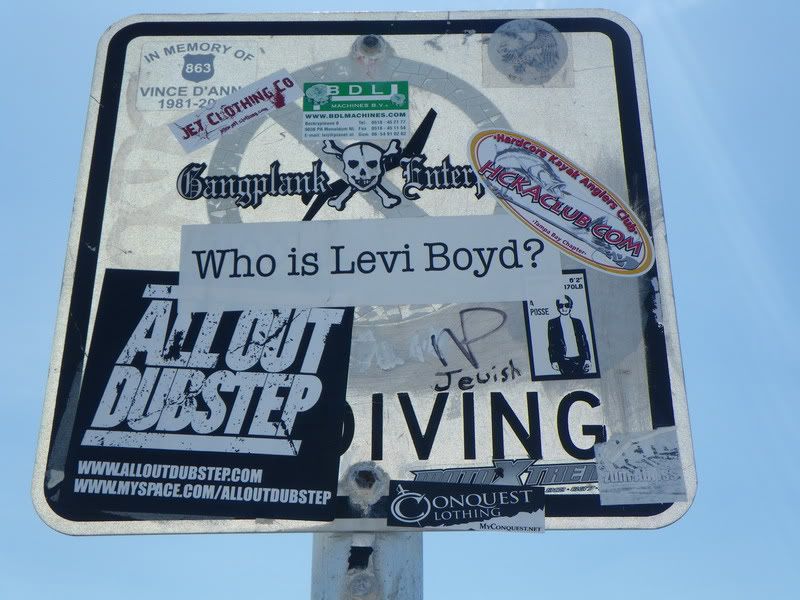 Tuesday, September 1, 2009
I slowly made my way north and scanned the area for fishy looking spots and kayak launch locations. There is so much water here that you could probably fish here your whole life and never see it all.


I stopped at the Long Key State Park and picked a prime ocean front space.

After setting up camp, I went to the park office and asked the Ranger on duty if he knew of any good spots around where I could find some Bonefish, Permit, Snook or whatever.
He was very nice and told me about a sweet flat where the bones "tail" every day at dusk and dawn.

 

Wednesday, September 2
I woke up before the sun this morning and launched from the Craig Key side of the Channel #5 bridge. The water was starting to come in strong and right off the bat I saw 2 tails waving on a patchy grass flat.

I drifted a little closer with a "near clear" DOA 1/4 oz. Shrimp on one rod and a Gulp jerk shad rigged weedless on an another.

I threw the shrimp about 10' in front of where I thought that they were going and I got excited when the tails went down. I felt a slight thump, thump, then my line screamed for about 10 seconds before suddenly going limp.

I sat there for quite some time trying to think of what I should have done differently. I continued to scan the area for more fish but soon the tide got too high so I moved over to the bridge. The current was rippin so I tied on a "Bait Buster" and was casting it cross current when it got hit. I set the hook and I see a 60lb. Tarpon jump on the other side of the piling. Piinngg, line seperated, fish gone.

After that I caught a Jack and saw a couple of Snook but they weren't hungry. Nice area, will definitely have to try this one again someday.

Thursday, September 3

Since Islamorada is only about 12 miles north of here, I decided to try to hook one of Robbies Tarpon. I got up before the sun and launched at a little opening in the mangroves across the Lignumvatae Channel. I eased my way around to the famed dock and could see the fish rolling. I threw everything in the box at those huge, tame Tarpon. They must be so used to being hand fed that wouldn't even chase a lure. The hundreds of Jacks that hang there did though and I caught several of those.
It was wierd, I could see Tarpon under the hooked jacks acting as if they wanted to eat them but they wouldn't.

When tourists began to show up for breakfast, they asked me not to fish there. I moved out of the dock area and fished around the key and under the bridge but didn't find any fish.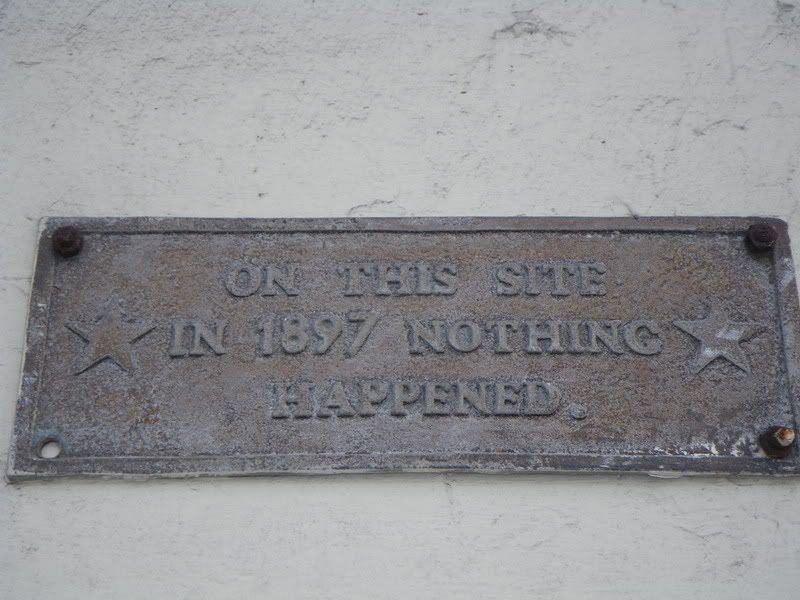 Friday, September 4

It stormed through the night and into this morning, so I just stayed in the tent and tried to sleep.

The rain stopped briefly around 10am so I decided to make a move. The site is all sand which made breaking down camp miserable. Everything including me is covered with sand.

I headed north and stopped at Robbies again for lunch and some more Tarpon fun.

I wanted to fish Biscayne Bay on my trip but skipped it on the way down. So I decided to find a launch and try my luck. Google Earth pointed me to Biscayne National Park.

I got into a school of Ladyfish, and a couple of Mangos but didn't see anything else.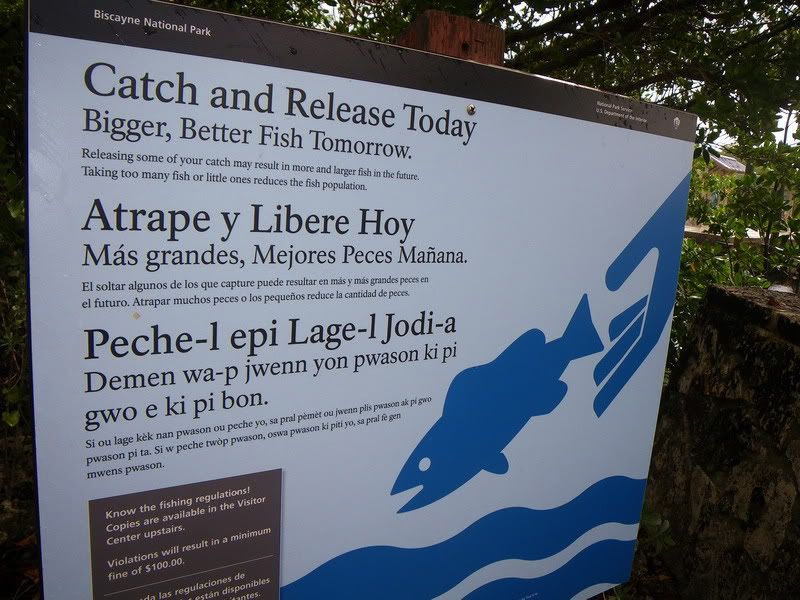 I got a room in Florida City and plan to go across the Everglades tomorrow.
Saturday, September 5
After a big breakfast, I hit 41 North also known as the Tamiami Trail (Tampa to Miami). It is a lesser traveled road that crosses the state and takes you to an area further south known as Chokoloskee near Everglades City.
This place is very remote, with nothing much to do but fish! The Chokoloskee Island Park is perfectly located with a boat ramp that allows you access to the "Ten Thousand Islands".
I launched this evening with hopes of fighting some monster Snook.
I must have caught half a dozen small Snook in the two hours that I was out there. When it got dark, navigation became a little difficult so I made my way back toward the channel in front of the Island. It is a good area with swift current, sand and oyster bars with various remnants of structure which is where I missed a close to 40" Snook!
The water exploded on my plug and it shot about 5' out of the water. The swirl was the size of a Volkswagen. How does a fish miss two sets of treble hooks?

I took this photograph with my camera in "night mode". The shutter stayed open for a long time and I was drifting. The shot came out slightly blurred, grainy and like a painting. It's kind of eerie and reminds me of how it felt out there tonight.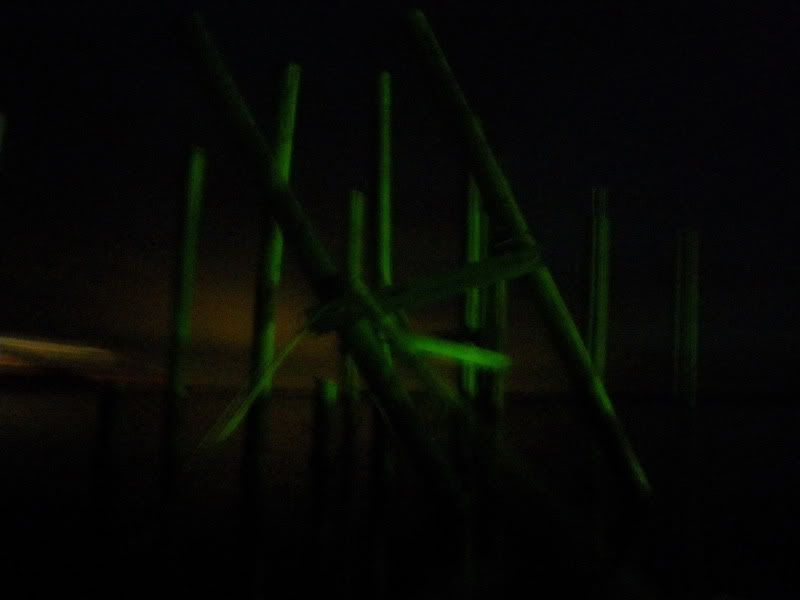 Sunday, September 6

I launched early and commenced to fishing the seemingly endless maze of oyster-based Mangrove Islands. The tide was rushing out but was going to turn at around 9am. I just let it pull me as I blind casted while scanning the water for any signs of life. I saw a lot of fish including a school of Redfish and a rather large Shark. With all of the rains that the area has been receiving lately the water is very "stained" and dark from the mud washing out of the creeks and marshes.

I caught a couple of twenty something inch linesiders and a few average Trout but I must admit, I'm getting a little frustrated with my run of missed and small fish.

I am trying to remain optimistic, but I think I was given the worst month of the year to camp and fish.

Being on the road and relocating over and over is starting to take it's toll on me. Securing a place to sleep, eat and fish as well as the numerous computer related ventures that I contribute to, make the days fly by.

Tonight I went to the only establishment that I could find that looked fun. Nothing more than a big screened in patio with live music and some good times but it gave me a chance to think about my future and the road back to reality that lies ahead of me.

Monday, September 7

I intended to spend more time in Chokoloskee searching for a trophy Snook but my inflatable bed sprung a leak and it stormed throughout the night and into the morning.

I made the tough decision to to break camp and find some civilization. I went slightly north to the Ft. Meyers/ Sanibel area and rented a nice room near the beach and in the center of the action.

I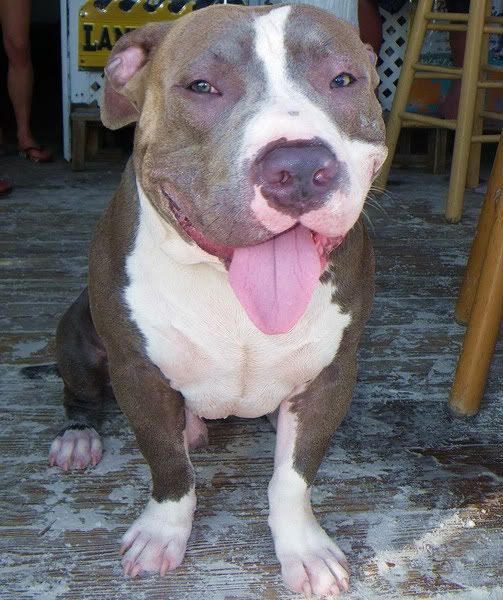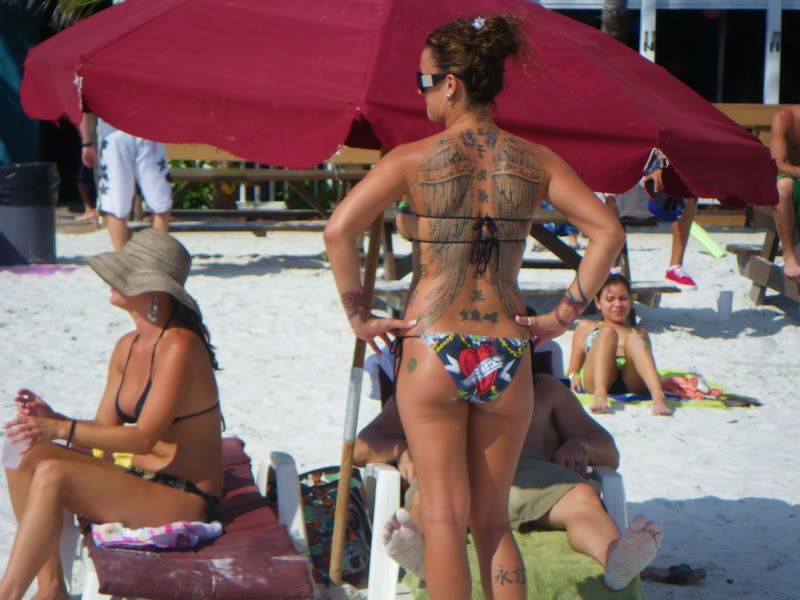 Tuesday, September 8

This morning I stopped here and talked to the owner for a bit. He advised me to tour Sanibel/ Captiva and pointed me toward Matlacha and Pine Island Sound for fishing.

Sanibel Island and Captiva are very nice and worth the $6 toll. After driving all over the island I made my way toward Matlacha which is a small fishing village that is west of Cape Coral.

I found this cool motel build on stilts where you can actually launch outside of your front door. The Brigewater Inn is the ticket for fish minded folk.
http://www.bridgewaterinn.com/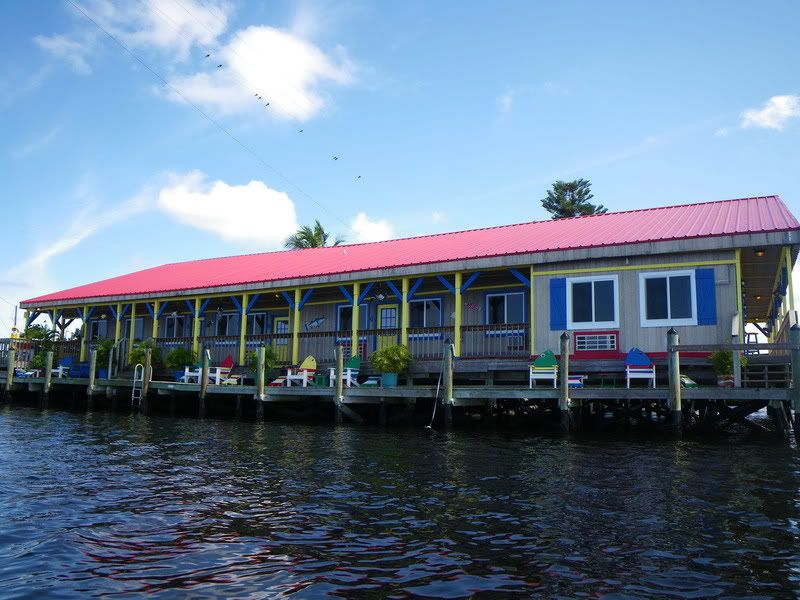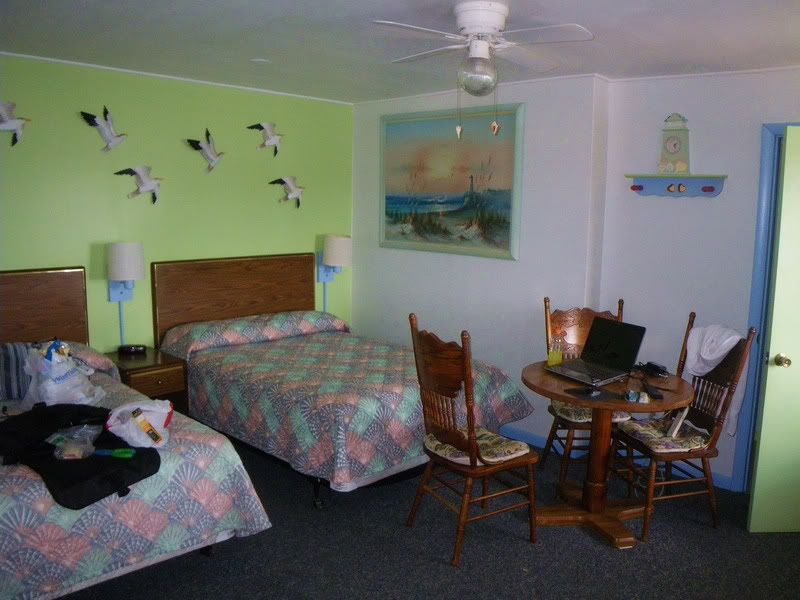 I went ahead and rented this one for a few days.

Wednesday, September 9

Just a stones throw from the room and I am surrounded by mangrove islands. With the sounds of jumping mullet and fish feeding on the surface, I'm in paradise.

The tide was high but slowly falling and the small cuts in the 'groves were where the fish were chewing.

My first fish hit a top water plug and dug in. I thought it was a Redfish but was surprised to reel in a Bluefish instead. These fish have very sharp teeth and strong jaws. I'm shocked that it didn't cut through my light leader.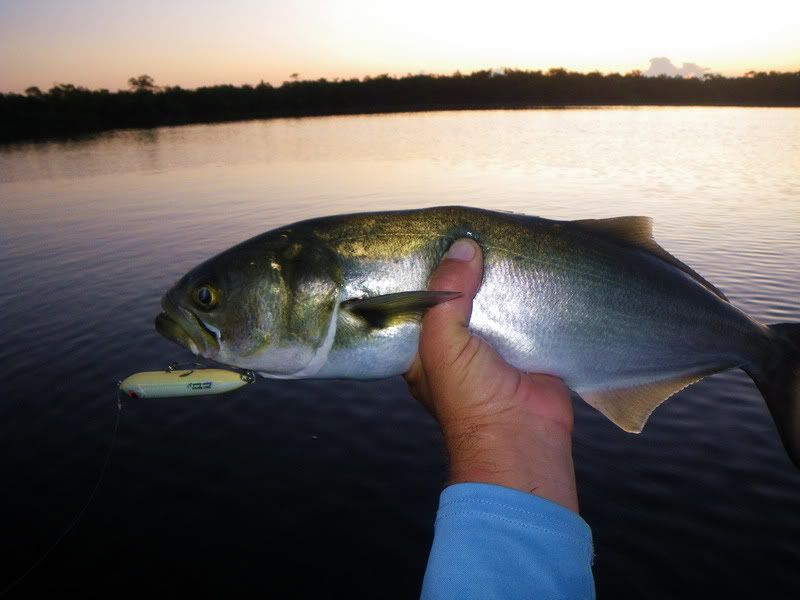 Right after that I get a Snook and then another. Although still on the small side, I had found an area that holds fish.

When the sun got high the bite died off so I made my way back to the room for a shower then some lunch at Bert's Bar & Grill, three doors down.

Thursday, September 10

This morning I went to a different area that was recommended to me by a local Captain that I met at Bert's yesterday.

This series of oyster bars was covered by a school of large mullet that had Redfish in the mix. Believe it or not, I was so confident and sure that I would be on these fish for hours that I lost 4 big ones to oyster out-croppings, hook failure and "horsing". I did manage to land two slot sized fish which I released, a Snook and a couple of small Trout to round out my Tourist Slam.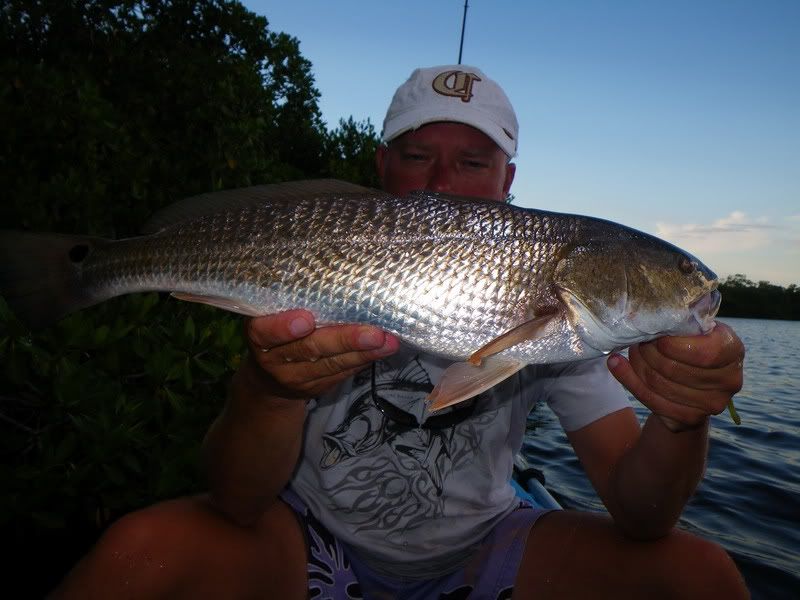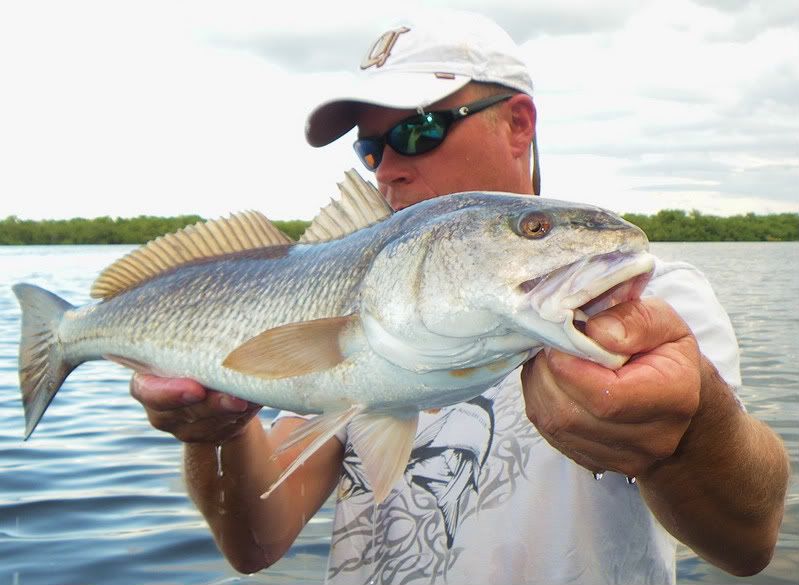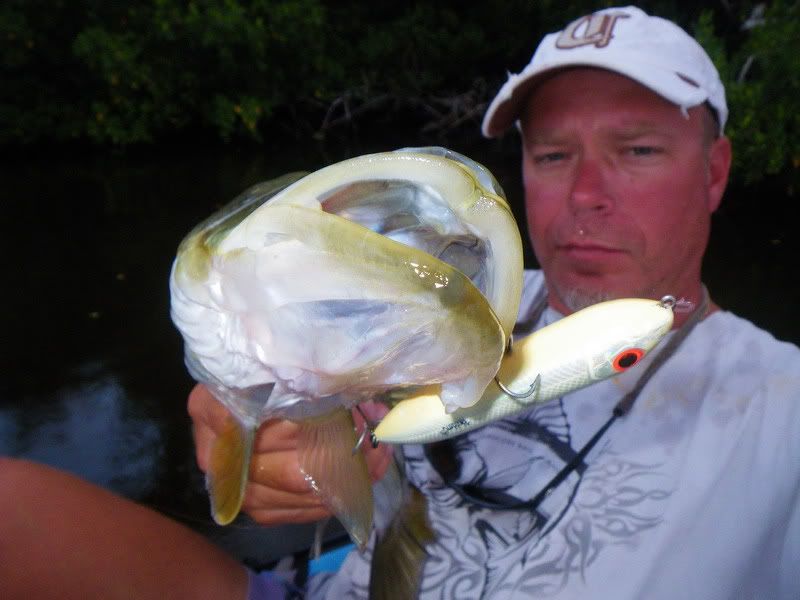 Friday, September 11

I checked out of the room this morning around 10 and made the 2-3 hour drive back to the St. Petersburg area. As I came over the Sunshine Skyway Bridge I had mixed emotions about being "home". I still have a couple of weeks before I need to go back to work so I might do a little more traveling. Having seen most of the coastal areas in Florida I have to say that Tampa/St.Pete is one of the nicer places in the state.

I rented a nice room in Treasure Island and went to the post office to collect my mail.

As I sat in the room paying my bills, I remembered the significance of this day and thought about all of the innocent Americans that lost thier lives in the terrorist attacks 8 years ago.
Although I did not know anyone that was killed, I feel like I did. I don't know exactly why but it has affected me personally and has changed the way that I see the world even to this day. When I think about what they did to us it makes me so angry.

God Bless America!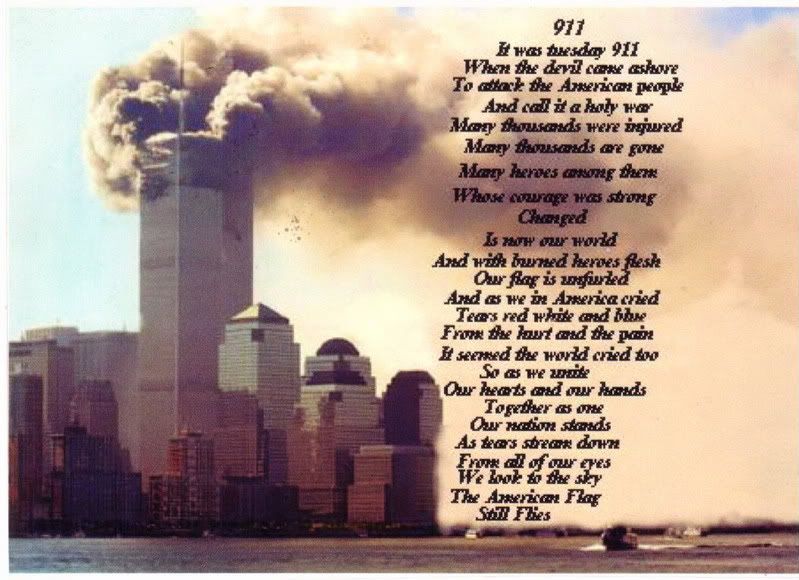 Saturday, September 12

This morning is the HardCore Kayak Anglers Club's September Fish_N_Munch, which is the main reason that I am back so early.

At 4 am I awoke to find that the area was covered in rain and thunderstorms. I figured that everyone would cancel but knew that I needed to go there just in case someone decided to show up. As it turned out 6 club members showed up and we stood on the shoreline of Palma Sola Bay in a light rain contemplating the weather and waiting for it to get a little light out so we could see.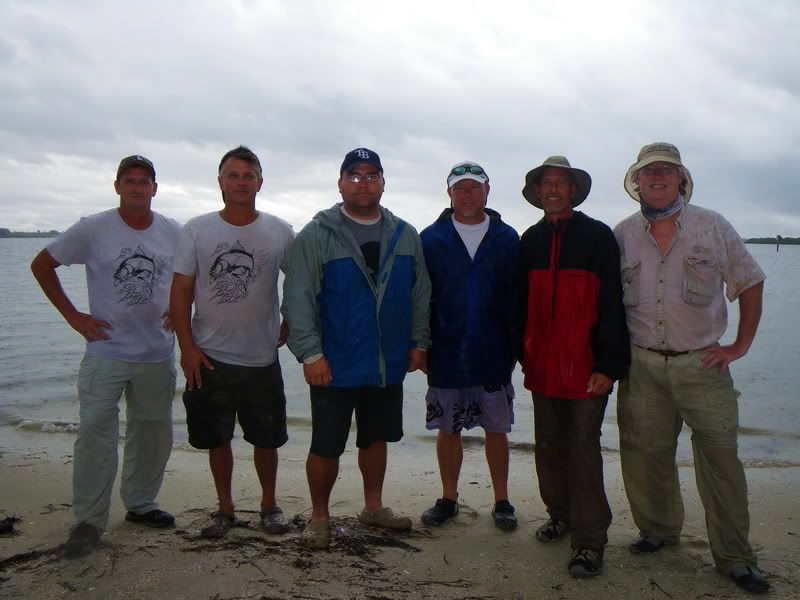 We decided to launch and it was nice and calm for an hour or so. We were all working our topwater plugs around mangrove islands that were flooded from the high tide. You could hear fish feeding way up in the roots but you couldn't get to them. As the tide started to fall we were getting hits. I landed this Redfish with no spots but then the dolphins and the rain moved in.

It started lightening and pouring about 10:30 so we made the smart decision to get off the water. Since the fishing was so slow and it was still early we decided to go to Denny's and catch a Grand Slam! Good times with friends is what the HardCore Kayak Anglers Club is all about.

Left to right: Ron(HellOnReels), Mark(Ridgeback), Ryan(Redfisher), Rick(Fishvision), Russ(Lime Cider), Charlie(Asaltweapon).
Today I went to my storage unit to check the contents and unload some of the things from my truck that I won't be needing to carry around anymore.

I don't think that I have mentioned it here yet but I have been offered a job by my previous employer Merecorp.
The property available is about 10 miles from the beach and not as nice as the one I came from so I wanted to check the area out. After driving around for a while I found that the area is not too bad and the complex is in the middle of being completely re-habbed. I would be running a small crew as we replace all of the cabinetry, flooring, plumbing fixtures, appliances etc. All of the A/C systems have already been replaced and the complex is mostly vacant at this time.

A free 2 bdrm. apartment and the same wage I was getting are included. Another draw is the fact that I would be working with Nancy, the manager that I had the pleasure of working with for the past seven years. We both know our jobs and get along well, which is very important.

I've been given a tip about another complex in Tampa that's looking for a Maintenance Supervisor that I am going to contact. I'll also be checking the job market over the next week but it's nice to know I have a job waiting if I want it.

1:00pm

I checked half a dozen motels in Treasure Island for a low weekly rate. It's almost comical how easy these guys are right now. I actually had them asking me what I wanted to pay. They never did laugh when I said $1, but I found one on the beach for $40 a night. They were about to tear it down and build condos a few years back before the the economy took a dump and it stayed closed for 2 years. In March the owners renovated it with new beds, A/C systems and other modern conveniences. I think I'll be comfortable here for the next 7 days.

Now I can think about doing some more fishing.

Monday, September 14

This afternoon I met up with my friend Jose Chavez to do a little fishing. Jose is the Tournament Director and a "Page" writer for the HardCore Kayak Anglers Club as well as a fellow moderator for our forum.

http://hckaclub.com/
We launched our kayaks at a location that Jose had chosen on Tampa Bay. The tide was rising but it was still low enough for us to see some tailing Redfish.
The abundance of floating grass made it hard to present anything successfully to them though. We found an area with a "cut" between two mangrove islands which had the water concentrated and moving swiftly. I was hopping a weedless soft plastic across the bottom when my line came tight and my reel started screaming. After several good runs I caught and released this 29"+ Snook.

Jose spotted some Snook sitting in an ambush spot near an overhanging mangrove limb. We tied on matching top water plugs and Jose made the first cast. His lure caught a piece of grass which fouled it's action. I then cast to the same spot and after a couple of twitches, the water exploded and it was Snook on! Jose threw his plug again and hooked up too. We had a sweet double header. Unfortunately, Jose's fish flipped out of his hands and got away before we could get a photo.

Here is my 30" "linesider", which I released.

It's always a good time fishing with Jose. He reads the water very well and knows how to find fish.



Tuesday, September 15


 
Today I just chilled around the beach, did some job searching online, some laundry then some shopping at Dogfish Tackle. 

 

Wednesday, September 16

4:00am

My alarm goes off, time to take a little road trip 100 miles north to meet a new HCKAC member.
Brian, aka "AripekaToOzello" has been fishing this area for over 20 years and he took me to a secluded launch spot near Yankeetown.

It is a very nice part of the state that is still mostly undisturbed by man. The topography is much different than Tampa Bay and as Brian pointed out, is more similar to Jacksonville's landscape without the 5' tidal swings.
There are no grass flats but it has deep dark waters with scattered hard-bottom and oyster outcroppings, and marsh islands rather than mangroves.
The tide was super high and there were schools of mullet around with gamefish in the mix. After several missed fish with a top water plug I tied on a suspending twitch bait which produced a few nice head-shakin', fang-faced, yellow mouthed Trout.
Brian had the hot hand today with a couple of Reds. One cut him off on a boulder and the other spit the lure only to come back and hit it again on the next cast.
I had a great time meeting and fishing with Brian and he assures that when the water cools off a little bit the place will be on fire!
I'm already looking forward to my next visit.
Friday, September 18

This morning I had plans to fish with my good friend and major contributor to the HCKAC, Adrian Correa. Unfortunately he had last minute familial obligations that kept him from going.
I launched at the location that I have been told is holding some schools of big Redfish. I have been asked to keep the spot on the "down low" and so I shall.
After pedaling a good distance to the the area, I find that the fish have moved. So I kept on moving and diligently searching for what should be obvious signs of a huge school of fish in relatively shallow water.
Several hours and miles later I see IT! A large area of flashing bronze. I carefully stood up in my kayak and saw what must have been 100+ over slot Redfish all schooled up. I quickly and quietly sat back down and grabbed a rod that I had pre-rigged with a weedless jighead and a GULP jerk shad. There were so many fish that I nervously cast toward the masses knowing that I was about to be engaged in a fight with a large fish on light tackle. Two twitches later and it was "game on"!
Saturday, September 19
This morning I met up with 5 of my friends at Bishop's Harbor on what is known as the south shore of Tampa Bay. We launched into a low tide and so we decided to fish out front of the harbor for some tailing Reds. We all found trout but the reds, not so much. Nik and Ron both landed 30" class Snook and Ron got his slam.
I on the other hand was a "rat-red" away from the worlds smallest slam. It was still a nice morning to be on the water.
Monday, September 21

This morning I went to Oak Creek to meet my bud Rick where I picked up the keys to my new 2/2 apt.

I won't be starting to work until Oct. 1, so I am able to move in at a relaxed pace. Now the task of moving my belongings from a storage unit in Seminole to my new apartment in Clearwater.

Wednesday, September 23

Still moving, Elect. turned on and a trip to WalMart and Publix to stock the new crib. I had almost forgotten the feeling of having a place to call home. It's nice and it feels like a huge weight has been lifted from my shoulders.

I still have alot of things to do but I am itching to go fishing.

Thursday, September 24

My alarm went off at 5am as planned but it felt so good when I stretched that instead getting up or hitting snooze, I turned it off and rolled back over.

Three hours later with the sun already up and baking, I loaded my kayak and gear onto the truck.

I do have a million things that most would consider more important to do, but time fishing tops my list of recuperative activities which is exactly what I needed after several days spent moving.

I launched from the 4th St. "ramp". This little dirt lot is an example of the many urban fishing locations that the Tampa Bay area is fortunate to have.

About 15 minutes after launching, I landed a top of the slot 26.75" Redfish. I was working a top water plug through a school of baitfish around Big Island. I fished my way around the island and made it back to the launch just as the winds picked up about noon. I got my "fix" and am ready to unpack a box or two. NOT!

I was in Redington Beach when I saw this storm front intersecting with the sunset. I had to stop and pop a couple of pics.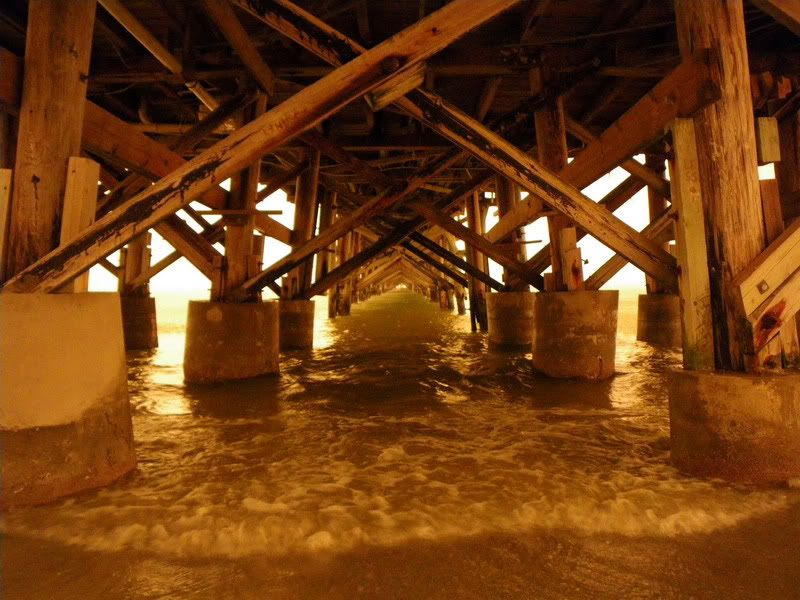 Saturday, September 26

Today I met up with Ryan, Mark and Ron. We were sort of pre-fishing an area for the upcoming HCKAC 2 Man Team Kayak Slam Tournament in Oct.

We launched into the dark at 6am. We were at an undisclosed "hot spot" on the south shore of Tampa Bay. Ryan, who is not in the tourney, got his slam early. The rest of us were just one fish away from completing our slams as we fished a slow outgoing tide. There was no wind and the biting bugs were ferocious.

I had a surprise this morning as I was working a top water plug. I get a blow-up which missed, but the fish came back to strike again and this time it got a face full of hooks!

I was happy to see a 15" Mangrove Snapper surface.

September 27- October 1, 2009

I'm sure that after joining me on my 2 month long excursion around the most beautiful place on our planet, you could probably live without seeing me in the moving process.
Thank you so much for following my "Ramblin'" Blogs! It has been an absolute pleasure to have been given the chance to take some time off work and do some serious soul searching.
My mind is clear, focused and ready to continue down the road that God has laid before me!


This is the END of my blog, as I now have a lot of work to do.